Eyvor Halldorsdottir
From Kingdom of Atenveldt
Photo
Lady Eyvor Halldorsdottir
Information
Heraldry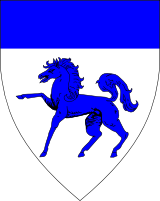 Argent, a horse passant and a chief azure.
General
She is a member of the Household Hrafnheim and the Southern Scriptorium.
Eyvor first learned of the SCA when she lived in the East, but only joined when she came to AZ and found the College of Saint Felix. Upon graduation, and since, she resides in the Barony of Tir Ysgithr with her husband Domagnev Volkovich.
She is the Apprentice of Ian'ka Ivanovna zhena P'trovitsa.
Persona
While Eyvor started out doing somewhat generic Norse, she's been starting to focus more on about 10th C Hedeby.
Awards, Offices, and Other Positions
Eyvor Halldorsdottir - Order of Precedence
Additional (non-OP) Projects and Non Warranted Positions
n/a
Arts
Lampwork Glass
Nalbinding
Clothing
Bread
Classes
Introduction to Nalbinding
Social Media
Find her on Instagram at WingedPugLabs
Find her blog at The Viking Apprentice