Domagnev Volkovich
From Kingdom of Atenveldt
Dom, aka Sir Plurican, is a Pelican, Laurel, and Knight from the Kingdom of Atenveldt.
Photo
Sir Domagnev
Information
Heraldry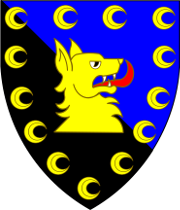 Per bend azure and sable, a wolf's head couped contourny within an orle of decrescents Or.
General
He is a member of the Household Hrafnheim.
Dom joined the SCA as part of the College of Saint Felix. Upon graduation, and since, hee resides in the Barony of Tir Ysgithr with his wife Eyvor Halldorsdottir.
On September 9, 2017, he joined the Orders of the Pelican and Laurel on the same day. On August 25, 2018, he joined the Order of the Chivalry.
Before being knighted, Domagnev was the Squire of Eduard Gostomski
Domagnev is also known as Domnall mac Failtigeirn.
Persona
In the works!
Awards, Offices, and Other Positions
Domagnev Volkovich - Order of Precedence
Exchequer for the College of Saint Felix
Additional (non-OP) Projects and Non Warranted Positions
n/a
Arts
Brewing
Card/tablet weaving
Classes
none
Social Media
Dom's projects occasionally appear on his wife's Instagram at WingedPugLabs